Hypnomancy

7 PM MT FRI AUG 21 2020
12 PM MT SAT AUG 22 2020


RECORDED PERFORMANCE:
Hypnomancy (live visual music performance) from David Stout on Vimeo.
HYPNOMANCY
Hypnomancy
(2020) is a visual music performance by artist, composer, David Stout. The work consists of an evolving series of visual tone poems that reflect on dream states as fields for divination, interdimensional time travel and superconscious transformation. The project, developed as both an intimate streaming presentation and concert stage performance, combines interactive animation and live electronic music with pre-composed visual and sound elements to create a rich vocabulary of generative audio-visual tableaus. As a sonic explorer, Stout deftly blends differing strains of minimalism, merging soft industrial noise, melodic atmospheres and pulsing rhythmic beds with orchestral accents and ambient dronescapes. This cinematic sensibility draws inspiration from global animistic music traditions and is steeped in contemporary electro-acoustic practice, acoustic ecology, glitch and experimental pop forms. David's visual references are equally far ranging with a focus on geometric pattern making, biomimetic abstraction and the legacies of romantic landscape painting viewed through the cyber-lens of synthetic ecology. The result is a journey of uncoiling abstraction that summons the viewer to the imaginal borderlands of their own perceptual schemata.
DAVID STOUT: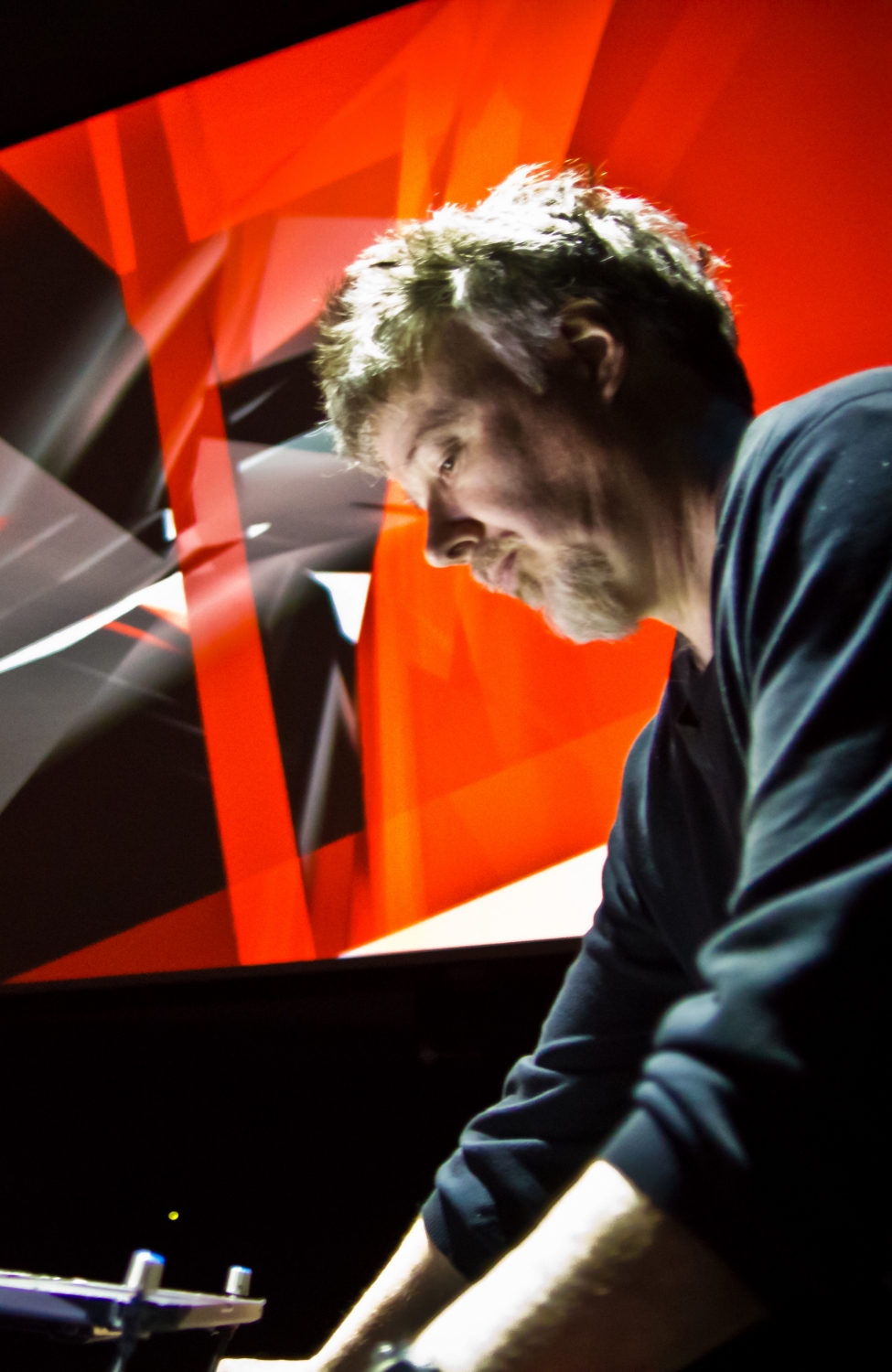 David Stout is a visual artist, composer, performer, writer and director. His practice, as both an artist and teacher, is focused on a hybrid synthesis of disciplines and traditions bridging the arts. He is recognized for works in live cinema, interactive video, electro-acoustic music and intermedia performances integrating immersive projection as an extension of performer, audience and architecture. David is cofounder of NoiseFold, an interactive media ensemble whose installations and concerts have been presented worldwide. His audio-visual projects explore the aesthetic possibilities of transcoding systems, artificial life networks and generative virtual environments. Stout's recent projects include visual music, data sonification, virtual reality, glassmaking and ceremonial performances that combine digital methods with art making traditions of the past including, mathematic generation of novel sculptural vessels realized in blown glass, the emulation of woven fabrics using real-time video processes and musical performances combining early music with responsive visual technologies. He currently directs the Hybrid Arts Laboratory (HAL) at the University of North Texas, where he coordinates the Initiative for Advance Research in Technology and the Arts (iARTA) and holds joint positions in Music Composition and Studio Art.
David Stout Vimeo

David Stout Soundcloud
Check out David's interactive 360° video piece,
The Clearing
, which is one of our Desktop Experiences in this year's festival!